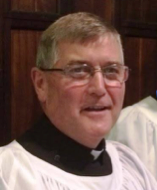 Following the decision of the Select Vestry earlier this year to return the Parish Clerical Team to a Rector and two Curates, I am delighted to be able to announce that I am in a position to appoint the Rev Nigel Pierpoint as a Curate Assistant to Taney Parish.
Nigel will not be a stranger in Taney as he has been with us as a Deacon since September of last year. Since then, as well as completing his studies, Nigel has involved himself in almost every aspect of Taney Parish life.
Nigel will end his Deacon Internship with us on Sunday 19th June and we will look forward to welcoming him back as Curate in September. Nigel will D.V. be ordained Priest on Sunday 25th September 2016 by Archbishop Michael Jackson in Christ Church Cathedral.
Please keep Nigel, Anne and their family in your prayers as Nigel prepares for this new chapter in Ministry.
With all good wishes,
Robert.
Rev. Canon Robert Warren.
Rector.