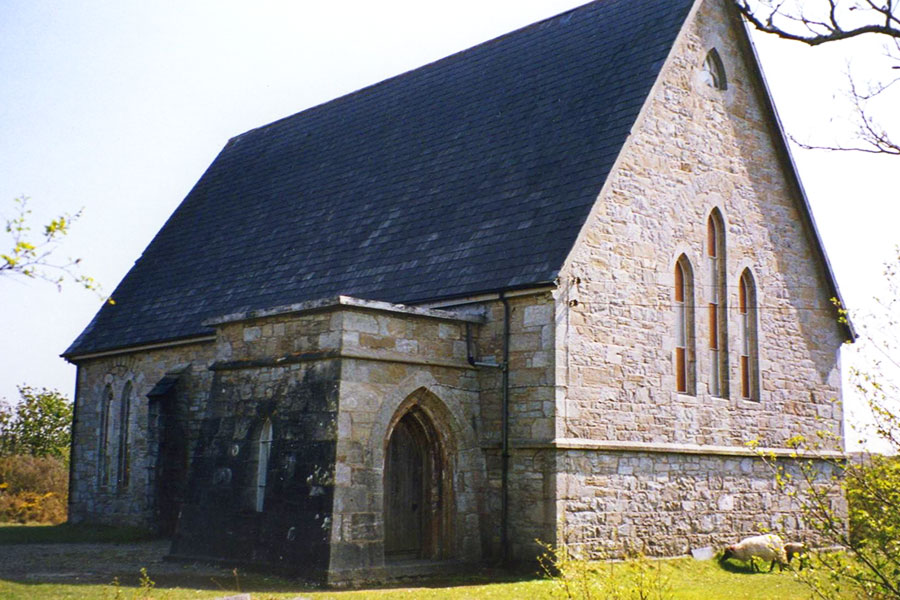 History of Holy Trinity, Errislannan
This church was designed by Joseph Welland for Rev. Richard Wall of Errislannan Manor and occupies a prominent position on the peninsula with extensive views over the surrounding area. The church shows evidence of highly skilled craftsmanship and design with an unusual battered porch. The buttresses and string courses are typical features of this era of church building. The varied window and door openings add interest and the building is enhanced by its setting in its well kept graveyard with a simple vehicular gateway. The simplicity of the interior, with unplastered stonework, is somewhat unusual. More info: www.friendsofstflannans.org
Errislannan Church Appeal
The interior of Errislannon Church has been extensively damaged by vandals. We are horrified and saddened by this wanton destruction and we need emergency funding to first of all weatherproof the church and stop further damage being caused to the interior.
Extensive damage was done to the church including the church bible being thrown through a window and the pulpit being split in two. The altar rail was completely ripped from its fixings and thrown through the east window of the church and all lights were smashed. The organ in the church has been smashed beyond repair.
It could take up to €70,000 to bring the Holy Trinity Church back to its former state.
Any help you can give will be very much appreciated to to ensure this lovely historic building is preserved for future generations.
Thank you,
The Very Rev. Stan Evans, Provost of Tuam
Support on GoFundMe
Photo Gallery