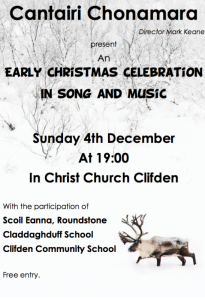 We are delighted to have Cantairi Connemara in Christ Church next Sunday 4th December at 7pm. when the choir will be giving their first concert of the Christmas season.
They will be joined by pupils from Scoil Eanna, Roundstone, Claddaghduff School and Clifden Community School.
The concert will be conducted by it's musical director Mark Keane.
This promises to be a lovely concert with familiar – and not so familiar – Christmas music.
So come to Christ Church on Sunday and support you Community Choir. Admission is free!