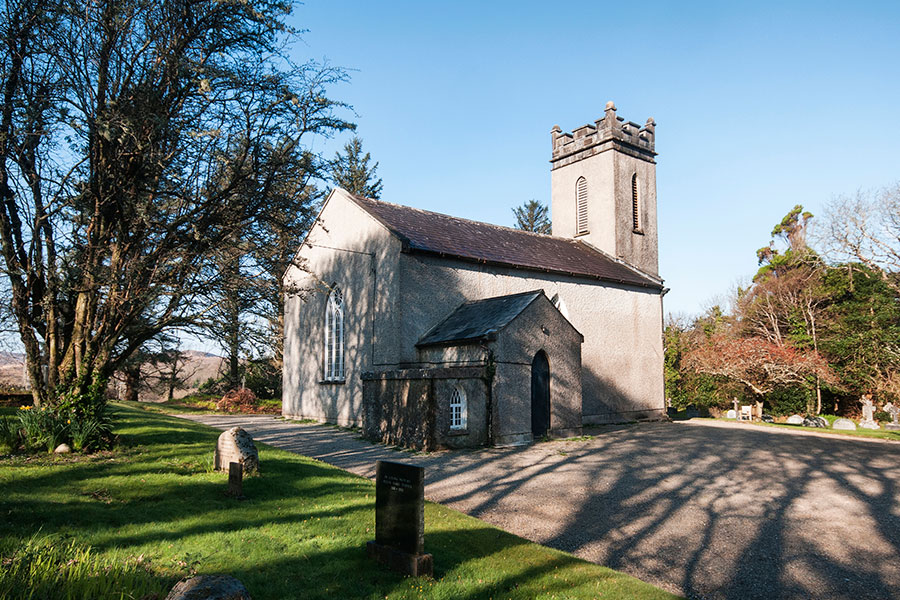 History of St Thomas's, Ballinakill (Moyard)
This church, situated in a wooded area, retains most of its historic fabric. The windows have a simple design that is effective to the observer with attention being drawn especially to the south-east window with its timber tracery and the rose window. The church was built with the support of two local landlords, Thomas Butler of Crocknaraw and Thomas Prior of Ross. The first rector was Rev. Thomas de Vere Coneys, a Professor of Irish in Trinity College, Dublin.
The rectory garden seems to have been a focal point from early on. William Baylor Harland, the celebrated nurseryman from Cork, who visited in 1894, described it as 'an oasis in the desert'.
An associated schoolhouse was also built to the west.
Description
Freestanding Board of First Fruits-style Church of Ireland Church, dated 1851, having three-bay south-west elevation, two-bay north-east elevation with gable-fronted porch having vestry addition to south-east side, and two-stage bell tower to north-west gable. Pitched slate roof to nave and replacement artificial slate to porch, with cast-iron rainwater goods, limestone and replacement concrete copings to gables and flat roof to tower concealed behind rendered limestone crenellated parapet. Flat concrete roof to vestry. Roughcast rendered walls with rendered plinths. Tower has tooled limestone string course, date plaque below string course to north-west face, tooled stone plat band below tooled stone cornice and parapet wall with stone coping and rounded stone finials to corners. Pointed window openings, windows to middle of long walls being higher than others, all with tooled limestone sills and small-pane windows. Window to lower stage of tower has tooled limestone block-and-start surround. This window, round-headed window to vestry, and those to middle of long walls are bipartite with Y-tracery, that to south-east gable is tripartite with rose window above middle light. Windows to nave have intersecting timber tracery to top panes. Pointed-arch timber louvered windows to all faces of tower at second stage. Pointed-arch entrances to north-east elevation of porch and tower having tooled limestone voussoirs, block-and-start surrounds with chamfered reveals, limestone steps to approach, and battened timber doors with timber overdoors. Square-headed door opening to south-west elevation of vestry. Graveyard to north, west and south of church. Rubble stone boundary walls with round rendered rubble stone piers having wrought-iron gates.
Photo Gallery
St Thomas's, Ballinakill Incumbents
Rev'd. John Lynch
Rev'd. Robert Mollan
Rev'd. Thomas Fleming
Rev'd. Benjamin Irwin
Rev'd. James Duke
The Venerable Benjamin Christopher Bulteel Irwin
– Archdeacon of Lucknow, India
Rev'd. Canon George Fairbrother
Rev'd. Canon Edward Alston
Rev'd. Canon Vernon Olaf Marshall
Very Rev'd. Dean John Gash
Rev'd. Canon Percy Lewis, Provost of Tuam
Rev'd. Anthony Previté
Rev'd. Christopher Warren
The Venerable Anthony Previté, Archdeacon of Tuam
Rev'd. Canon Denis Sandes
The Very Rev'd. Stan Evans
1852 – 1859
1860 – 1871
1871 – 1892
1892 – 1920
1920 – 1931
1931 – 1953


(1931 – 1953)


1953 – 1962
1963 – 1968
1968 – 1972
1972 – 1973
1973 – 1991
1991 – 1993
1994 – 1996
1996 – 2006
2007 – 2012
2013 – present