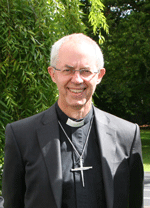 Archbishop of Canterbury to Speak at Church of Ireland Theological Lecture
Archbishop of Canterbury Justin WelbyThe annual Church of Ireland Theological Lecture at Queen's University Belfast will take place on Monday 8th February at 6pm in the Great Hall.
The speaker will be the Archbishop of Canterbury, the Most Revd and Rt Hon Justin Welby.
Seats can be reserved at www.thehubbelfast.org
The Archbishop has chosen the theme of Reconciliation for his lecture and there will be an opportunity for Q&A following his address. Whilst we cannot guarantee that any particular question may be put to the Archbishop, the chaplaincy invites you to submit a question in advance via the above website.
This event is free and open to all, but with a high demand for spaces attendance is by reservation only.