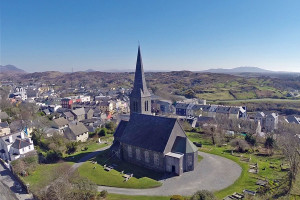 Clifden, while situated in a uniquely rich area of mountainous landscape and unspoilt coastline, lacks much in the way of green space at it's centre. Viewed from above, the site at Christ Church stands out as an exception. It is a heritage site because of the historical significance of the church building which dates from the 1850's. The church and graveyard are linked from three directions to the heart of the town and the location also benefits from height as it overlooks the central square and follows a birds eye view right down to the quay. The green space surrounds the church on all sides but extends significantly at the rear of the building into a sloping grassy area which settles into a broad wooded plane at it's perimeter.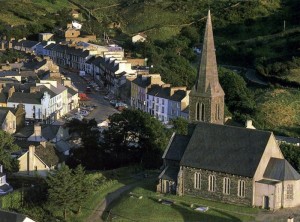 Last year, Christ Church received funding for a grave mapping project, allowing the graves ( some of which are very old ) to be identified. This is now complete and a new phase of preservation and development for the site is now in progress. This is an inclusive venture which began as the brain child of Sandra Shattock of Clifden Tidy Towns in partnership with Canon Stan Evans. The vision behind the project is the preservation of this unique place while also allowing it to be opened up to the community of Clifden. The plan includes the promotion of wildlife through sympathetic landscaping and planting as well as a nature trail, a peace garden and an outdoor classroom. All weather furniture has already been sourced for the 'classroom' and it is hoped that the space will be used by local teachers and school children as well as for hosting cultural and heritage events during the year. Community involvement is integral to this project, so that the people of Clifden will enjoy this site as much as our visitors, hopefully using it to partake in walks and talks or simply to take time out to enjoy the natural surroundings.
Marie Louise Heffernan from Aster Environmental Consultants has been invited to coordinate the project in partnership with Canon Stan Evans and Clifden Tidy Towns. It is hoped that the space will be as beneficial as possible for the diverse groups and individuals that make up our community in Clifden. If you have any ideas on how you would like this space to be enhanced, you may contact Marie Louise at aster4info@gmail.com. All ideas are welcome and each submission will be considered carefully as part of the final project.
Debbie Watkins